News
Hildebrandslied
Benjamin Bagby has recorded the only surviving Old High German epic fragment, the Hildebrandslied (The Song of Hildebrand), for inclusion in an audiobook version of Adam Gedwitz's new book for children and young adults, The Inquisitor's Tale, just released by Penguin/Random House. He also recorded harp accompaniments to go with portions of the reading of the story. A release event is being schedule for New York City in early April, 2017.
New program given birth at Cambridge University
Following working sessions in 2014-15 with University of Cambridge musicologist Sam Barrett in the USA (Harvard University and Ohio State University) and in Cambridge (Pembroke College), Sequentia was in residence at Cambridge in April for the final rehearsals of the new program 'Monks Singing Pagans'.  An informal video of a rehearsal made by the university became a YouTube sensation, with over 500,000 views. In addition to their rehearsals and working sessions on the songs of Boethius, Sequentia gave a masterclass and the premiere performance of 'Monks Singing Pagans', immediately followed by the US premiere during a residency at Dartmouth College (USA). The week spent at Dartmouth included teaching activities in music history, performance practice, Latin poetry and manuscript studies. Sequentia returned to Cambridge in late June to prepare a special program of the Boethian songs, which was given as part of a symposium on medieval Latin song, with a special concert on 2 July in Pembroke College Chapel.
Teaching in Basel and Milano
Benjamin Bagby will be teaching performance courses on medieval song at two music academies this year:
Schola Cantorum Basiliensis (Basel, Switzerland): 31 October to 1 November 2016 and 13-14 March 2017
Scuola Civica die Musica Claudio Abbado (Milano, Italy): 2-3 December 2016 and 16-18 February 2017
Beowulf in Russia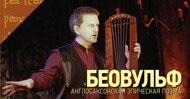 On 8 September 2015, Benjamin Bagby performed Beowulf for the first time in the Russian Federation, in the Tchaikowsky Conservatory in Moscow. Following this, Bagby coached an ensemble of Moscow early music performers for the festival La Renaissance, in preparation for their Russian premiere of the 'Roman de Fauvel' on 12 September in Moscow. For this significant event, Bagby was working with Russian instrumentalists Ivan Velikanov, Danil Ryabchikov and French vocalist Marc Mauillon.
Bagby at Cambridge University
On 28-29 September 2015, Benjamin Bagby was at Cambridge University, working with musicologist Sam Barrett on their joint project to reconstruct the 'metra' from the Consolation of Philosophy of Boethius. There was also a presentation of works in progress for Cambridge musicology students on 28 September. For these sessions, Bagby & Barrett were joined by Swiss vocalist/harpist Hanna Marti, who is working on a similar project involving the Metamorphoses of Ovid.
'Frankish Phantoms' at the Radovljica Early Music Festival
Following their triumphant performance at the Boston Early Music Festival in June 2015, the Sequentia trio of Bagby, Rodenkirchen and Smishkewych repeated their program 'Frankish Phantoms' at the Radovljica Early Music Festival (Slovenia), on 23 August 2015.
Interview with Benjamin Bagby in the Slovenian daily Delo (PDF)
Summer course for the Vancouver Early Music Festival
Benjamin Bagby, together his Sequentia colleagues Norbert Rodenkirchen and Wolodymyr Smishkewych, taught a 2-week intensive summer course for the Vancouver Early Music Festival, which culminated in a joint concert on 7 August 2015 (Sequentia, joined by selected students from the course), performing a program called 'The Queen and the Troubadour', centered on music at the courts of Aliénor d'Aquitaine and Marie de Champagne (12th and 13th centuries).
Concert of music by Hildegard von Bingen
On 9 July 2015 Benjamin Bagby directed an ensemble of women's voices from the Hochschule für Evangelische Kirchenmusik in Heidelberg, Germany, in a concert of music by Hildegard von Bingen. This concert was the culmination of a week-long workshop on Hildegard's music.
History of Sequentia
On 8 April 2015 Benjamin Bagby spoke at the University of Paris (Sorbonne) about the 38-year history of Sequentia, using photos and musical examples to trace the development of the ensemble from its founding in 1977, with Barbara Thornton, to the current programs of 'The Lost Songs Project'. Bagby's plan is to eventually begin work on a more detailed history of the ensemble, which he hopes to make available in years to come, chapter by chapter, on the Sequentia website.
A Smithsonian Symposium
Organized by the Smithsonian's Kenneth Slowik, a symposium at the Smithsonian Institution explored several topics germane to the teaching of historically informed performance practice to collegiate and graduate students in the United States. As an inspirational prelude to the symposium itself, Bagby, co-founder of the medieval ensemble Sequentia, presented his hour and one quarter long solo recitation of the first part of the great medieval Anglo-Saxon saga Beowulf.
Interview
Read an in-depth interview with Benjamin Bagby in the 2014 issue of the journal TYR
Hildegard von Bingen: complete works
Since 2014, Sequentia's recording of the complete works of Hildegard von Bingen has been planned for release as a 9-CD box set on the DHM/SONY label. Unfortunately, there have been several delays. As soon as a new release date is announced, it will be announced on this website
Barbara Thornton Memorial Scholarship
The most recent scholarship (2013) was awarded by Early Music America to mezzo soprano Isabella Shaw.
In Memoriam
We mourn the loss of our colleague and friend Margriet Tindemans (1951-2014), a genial musician, gambist, director, teacher and medieval fiddler, who was a core member of the ensemble in our first decade of existence. Read a tribute by Benjamin Bagby
Sequentia on BBC 3
Benjamin Bagby was recently in London, where he appeared as a guest on the BBC 3 'Early Music Show' to talk about Sequentia. The podcast version of his interview with host Catherine Bott can be heard here.
New recording
The program 'Voices from the Island Sanctuary' was recorded by the Westdeutsche Rundfunk Köln. A CD release is currently being negotiated.
Fragments for the End of Time on 2012 US tour
Sequentia performed the program 'Fragments for the End of Time' during a US concert tour in February/March 2012. Read reviews in the New York Times: The Fearsome Future Through Medieval Eyes, and the Boston Musical Intelligencer: Bagby Time-Travels to medieval Europe.
'Beowulf' at Kalamazoo
A major scholarly book has just been published which documents a gathering of prominent Anglo-Saxonists and scholars of oral poetry at the University of Western Michigan. Benjamin Bagby was a participant in that meeting, where he also performed his version of 'Beowulf'. The book includes essays on translating 'Beowulf', essays on performance (featuring a lengthy roundtable discussion with Bagby and various scholars), and reviews of Seamus Heaney's best-selling English translation of 'Beowulf.' There is also a CD with readings from 'Beowulf' by Bagby (in the original) and a variety of other readers in various languages.
'Beowulf' at Kalamazoo: Essays on Translation and Performance. Edited by Jana K. Schulman and Paul E. Szarmach. Medieval Institute Publications, Western Michigan University, Kalamazoo (2012). 432 pages, plus audio CD. ISBN 978-1-58044-152-0
International Symposium on Early Medieval Harps
On 8 and 9 October, 2011, Benjamin Bagby participated in an international symposium on early medieval harps (also known as lyres), held at the Archeology Museum in Konstanz, Germany. Joined by experts from all over the world, instrument builders and other performers, Bagby gave a short performance of 'Beowulf' excerpts and also a talk on his work. The event had been planned around the exhibition of a recently-restored 6th century harp found in Trossingen, now on exhibit at the museum in Konstanz. Read the symposium brochure here (PDF, 886 Kb)
Bagby and Rodenkirchen on WDR3
In June, 2011, Benjamin Bagby and Norbert Rodenkirchen were interviewed by journalist Anna Austrup for a Sequentia 'Portrait' broadcast in the West German Radio's prestigious 3rd program, in conjunction with a live broadcast concert in Cologne's 'Romanesque Summer' concerts series.
Listen to the recorded interview (in German)
Benjamin Bagby on WQXR
On January 23, 2011, Bagby joined host David Garland at New York's classical music station, WQXR, to share his insights on the challenges and pleasures of bringing medieval music to life, and to present recordings by Sequentia.
Listen to the recorded interview
Bagby and Livljanic at Harvard
In February and April 2011, Benjamin Bagby was invited -- along with Katarina Livljanic -- as a 'Blodgett Visiting Artist' at the Harvard University department of music. As a part of the seminar of Prof. Thomas Kelly, they will be working with students on performance techniques of early medieval polyphony.
Early Music America Annual Award
Early Music America, the national service organization for the field of early music, has announced the winners of its 2010 awards recognizing outstanding accomplishments in early music. Benjamin Bagby received the Howard Mayer Brown Award for lifetime achievement in the field of early music. The awards was presented at the EMA Annual Meeting and Awards Ceremony at the 2010 Berkeley Early Music Festival.