From the Press
US Tour 2011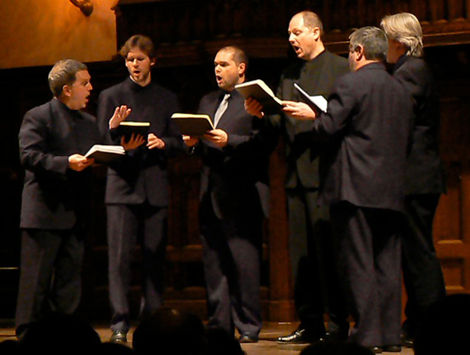 Benjamin Bagby's superb medieval-music ensemble
The New Yorker (January 2011)
Mr. Bagby, who played the harp, and his five colleagues…sang with flair throughout the evening,
New York Times (25/01/11)
To listeners accustomed to the ethereal, disembodied sound heard in popular recordings of "Gregorian Chants to Soothe the Soule" (etc.), Sequentia's sound — vigorous and virile — will come as a bit of a shock. … Harmonies, when used, were spare, diatonic, and often surprisingly dissonant.
…the lovely sequence Ave gloriosa virginum regina by Philippe le Chancelier, which opened the program, extolled the Virgin Mary in downright sensual poetry sung to the accompaniment of a hurdy-gurdy.
…throughout the program, careful attention was paid to the declamation and rhetoric of the texts.
www.clevelandclassical.com (26/01/2011)
Leave it to Benjamin Bagby, artistic director of the venerated Medieval music ensemble Sequentia, to devise spellbinding programs.
…the program's sacred and profane songs came across with hypnotic immediacy.
What the music revealed was the richness of expression and unusually energetic activity that emanated from the Parisian island during the 12th and 13th centuries.
The Plain Dealer / Cleveland (26/01/2011)
The impact of the music on this occasion was a testament to the refined urgency that has been a hallmark of Sequentia.
Bagby exudes flesh-and-blood intensity both as solo singer – his one-man Beowulf a decade ago was a dazzling achievement – and collaborator. He was the potent narrator Tuesday in the whimsical "Olim sudor Herculis," which finds Hercules and other hapless suitors at Venus' amorous beck and call.
Babgy's Sequentia colleagues – Josep Cabre, Vincent Pislar, Wolodymyr Smishkewych, Michael Loughlin Smith and Mathias Spoerry – were sophisticated and impassioned equals in vocal matters.
Director Benjamin Bagby has bet his life's work that scholarship and musicianship can co-exist on a musical stage. On Friday night, The Friends of Chamber Music brought Bagby and Sequentia to a packed house at Grace and Holy Trinity Church. It was the perfect forum to showcase the ensemble's signature ability to take listeners to surprising places. Sequentia's work satisfies on every level: followers of the venerable ensemble know what to expect, and first-time patrons soon appreciate the depth to which Sequentia prepares a program. Bagby brings inventiveness and flair (yes, flair!) to medieval music, making it positively thrilling to sense the performers' and listeners' commitment to the music.
Much of the music resonated in a very human way, contextualized so that modern listeners might believe these "voices from Notre Dame" had similar weaknesses and shared familiar concerns.
An audience might expect that monophonic singing is simplistic and dull, but the clarity of this music refreshes and moves the imagination; it is humbling in its purity. Centuries fell away with the first utterances, as modern sensibility alongside some dramatic posturing brought this praise song to life. The rhythmic inflections imposed on the music were subtle and almost lilting at times…the audience seemed fixated.
Listeners appreciate a concert like this for all it represents: inquiry, exploration, and adventure—all in service to music that deserves to be heard. Ancient social and musical myths will undoubtedly continue to reverberate in the minds of this modern audience. In such a clever reconstruction, where scholarship and speculation merge, no one seems to mind the questions left unanswered. After all, who would want all of these mysteries to be definitively solved? We would rather keep enjoying how alive this ancient music still feels, open to hearing again and again the learned interpretations of the who, when, and why of it all.
Upcoming Concerts
17 March 2017
Basel (CH) Predigerkirche, Freunde Alte Musik
Monks Singing Pagans
25 March – 2 April 2017
Lafayette College, Vassar College, Princeton University, Yale University
Benjamin Bagby Beowulf tour USA
1 April 2017
New York City, Symphony Space
Book release event for 'The Inquisitor's Tale'
11 May 2017
Paris, Université de Paris – Sorbonne, Amphithéâtre Richelieu
Beowulf
News
Hildebrandslied
Benjamin Bagby has recorded the only surviving Old High German epic fragment, the Hildebrandslied (The Song of Hildebrand), for inclusion in an audiobook version of Adam Gidwitz's new book for children and young adults, The Inquisitor's Tale, just released by Penguin/Random House. He also recorded harp accompaniments to go with portions of the reading of the story. A release event is being schedule for New York City in early April, 2017.
New program given birth at Cambridge University
Following working sessions in 2014-15 with University of Cambridge musicologist Sam Barrett in the USA (Harvard University and Ohio State University) and in Cambridge (Pembroke College), Sequentia was in residence at Cambridge in April for the final rehearsals of the new program 'Monks Singing Pagans'.  An informal video of a rehearsal made by the university became a YouTube sensation, with over 500,000 views. In addition to their rehearsals and working sessions on the songs of Boethius, Sequentia gave a masterclass and the premiere performance of 'Monks Singing Pagans', immediately followed by the US premiere during a residency at Dartmouth College (USA). The week spent at Dartmouth included teaching activities in music history, performance practice, Latin poetry and manuscript studies. Sequentia returned to Cambridge in late June to prepare a special program of the Boethian songs, which was given as part of a symposium on medieval Latin song, with a special concert on 2 July in Pembroke College Chapel.
Teaching in Basel and Milano
Benjamin Bagby will be teaching performance courses on medieval song at two music academies this year:
Schola Cantorum Basiliensis (Basel, Switzerland): 31 October to 1 November 2016 and 13-14 March 2017
Scuola Civica di Musica Claudio Abbado (Milano, Italy): 2-3 December 2016 and 16-18 February 2017