Projects
Men's Voices
In the mid-1980's, Sequentia began to undertake large-scale projects involving an ensemble of 3-9 men's voices, directed by Benjamin Bagby, for the performance of chant, music drama, liturgical polyphony and monophonic sacred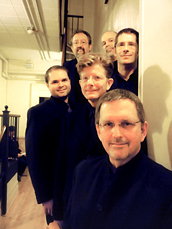 repertoires. By the late 1980's the men's ensemble of Sequentia was a renowned trans-Atlantic collegium (many of the singers came from Boston) which performed and recorded widely in North America and Europe, sometimes under the name 'Sons of Thunder'. More recently, the ensemble has toured with programs such as 'Pilgrims to the Apocalypse' (2000) and in 2004 joined with the men's ensemble of the ensemble Dialogos (dir. Katarina Livljanic) for the project Chant Wars, which toured in Europe, North and South America, and continues to be performed. The Boston men's ensemble premiered a new program in 2008: Carmina Burana (with the Boston Symphony Orchestra), and in 2009 a new ensemble of Sequentia's men's voices was founded in Paris (see Programs: Voices from the Island Sanctuary).
Past and present concert programs
Charlemagne: Emperor and Saint (2011-present)
Voices from the Island Sanctuary (2009-present)
The Original 'Carmina Burana' (2008)
Chant Wars (with Dialogos, 2004-2010)
The New Voices of Notre Dame de Paris (2002)
Pilgrims to the Apocalypse (2000)
Liber Sancti Jacobi – Codex Calixtinus (1999)
Hildegard von Bingen Project (multiple programs, 1995-99)
Christmas Music from Aquitanian Cloisters (1996)
Singing Stones (1987-88)
Frauenlob (1987-1990)
Music-drama (multiple projects,1985-92)
Sequentia recordings featuring the men's vocal ensemble
Upcoming Concerts
17 March 2017
Basel (CH) Predigerkirche, Freunde Alte Musik
Monks Singing Pagans
25 March – 2 April 2017
Lafayette College, Vassar College, Princeton University, Yale University
Benjamin Bagby Beowulf tour USA
1 April 2017
New York City, Symphony Space
Book release event for 'The Inquisitor's Tale'
11 May 2017
Paris, Université de Paris – Sorbonne, Amphithéâtre Richelieu
Beowulf
News
Hildebrandslied
Benjamin Bagby has recorded the only surviving Old High German epic fragment, the Hildebrandslied (The Song of Hildebrand), for inclusion in an audiobook version of Adam Gidwitz's new book for children and young adults, The Inquisitor's Tale, just released by Penguin/Random House. He also recorded harp accompaniments to go with portions of the reading of the story. A release event is being schedule for New York City in early April, 2017.
New program given birth at Cambridge University
Following working sessions in 2014-15 with University of Cambridge musicologist Sam Barrett in the USA (Harvard University and Ohio State University) and in Cambridge (Pembroke College), Sequentia was in residence at Cambridge in April for the final rehearsals of the new program 'Monks Singing Pagans'.  An informal video of a rehearsal made by the university became a YouTube sensation, with over 500,000 views. In addition to their rehearsals and working sessions on the songs of Boethius, Sequentia gave a masterclass and the premiere performance of 'Monks Singing Pagans', immediately followed by the US premiere during a residency at Dartmouth College (USA). The week spent at Dartmouth included teaching activities in music history, performance practice, Latin poetry and manuscript studies. Sequentia returned to Cambridge in late June to prepare a special program of the Boethian songs, which was given as part of a symposium on medieval Latin song, with a special concert on 2 July in Pembroke College Chapel.
Teaching in Basel and Milano
Benjamin Bagby will be teaching performance courses on medieval song at two music academies this year:
Schola Cantorum Basiliensis (Basel, Switzerland): 31 October to 1 November 2016 and 13-14 March 2017
Scuola Civica di Musica Claudio Abbado (Milano, Italy): 2-3 December 2016 and 16-18 February 2017