Projects
Men's Voices
In the mid-1980's, Sequentia began to undertake large-scale projects involving an ensemble of 3-9 men's voices, directed by Benjamin Bagby, for the performance of chant, music drama, liturgical polyphony and monophonic sacred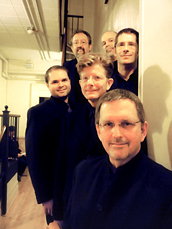 repertoires. By the late 1980's the men's ensemble of Sequentia was a renowned trans-Atlantic collegium (many of the singers came from Boston) which performed and recorded widely in North America and Europe, sometimes under the name 'Sons of Thunder'. More recently, the ensemble has toured with programs such as 'Pilgrims to the Apocalypse' (2000) and in 2004 joined with the men's ensemble of the ensemble Dialogos (dir. Katarina Livljanic) for the project Chant Wars, which toured in Europe, North and South America, and continues to be performed. The Boston men's ensemble premiered a new program in 2008: Carmina Burana (with the Boston Symphony Orchestra), and in 2009 a new ensemble of Sequentia's men's voices was founded in Paris (see Programs: Voices from the Island Sanctuary).
Past and present concert programs
Charlemagne: Emperor and Saint (2011-present)
Voices from the Island Sanctuary (2009-present)
The Original 'Carmina Burana' (2008)
Chant Wars (with Dialogos, 2004-2010)
The New Voices of Notre Dame de Paris (2002)
Pilgrims to the Apocalypse (2000)
Liber Sancti Jacobi – Codex Calixtinus (1999)
Hildegard von Bingen Project (multiple programs, 1995-99)
Christmas Music from Aquitanian Cloisters (1996)
Singing Stones (1987-88)
Frauenlob (1987-1990)
Music-drama (multiple projects,1985-92)
Sequentia recordings featuring the men's vocal ensemble
Upcoming Concerts
05 October 2017
Paris (FR), Musée de Cluny
Monks Singing Pagans
09 to 13 October 2017
Venice (IT), Fondazione Cini
Seminar Roman de Fauvel
20 April 2018
Konstanz, D
Oswald in Konstanz
News
Benjamin Bagby's recent activities as teacher/lecturer, linked to his performances
At the invitation of the music department, Benjamin taught a performance workshop on the music of Hildegard von Bingen for students at Princeton University (29 March), where he also performed 'Beowulf' in a collaborative production with digital light designer Craig Winslow. Following this, at the invitation of the medieval studies program and the English department, he gave a lecture on his work with reconstructing the 'Beowulf' performance, at Yale University (3 April).
At the Université Paris – Sorbonne, where Benjamin is on the faculty, the yearly 'Entretiens de la musique ancienne' were held this year in honor of his life-long work with reconstructing 'lost songs'. The main event was his performance of 'Beowulf' (11 May), with French video titles, in the Amphithéâtre Richelieu of the Sorbonne, followed by two days of symposium at the university's Centre Clignancourt, sponsored by the historical music organization IREMUS and the musicology department of the university. During this symposium, Benjamin gave a lecture on his work with reconstructed harps and the kinds of clues they can provide ('Beowulf ': dans l'atelier d'un conteur d'histoires).
2017 Barbara Thornton Memorial Scholarship awarded by Early Music America to string-player Allison Monroe
This scholarship is given by EMA to "an outstanding and highly-motivated (and possibly unconventional) young performer of medieval music who seeks to widen his/her experience through more advanced study and/or auditions in Europe."  The recipient is chosen by a jury of musicians who knew or worked with the great medieval music specialist and teacher, Barbara Thornton (1950-1998), who co-founded Sequentia together with Benjamin Bagby in 1977. Read more about Allison here.