Programs
Monks Singing Pagans

New program for 2016–2017 directed by Benjamin Bagby
| | |
| --- | --- |
| Benjamin Bagby | voice, harp |
| Norbert Rodenkirchen | flutes |
| Hanna Marti | voice, harp |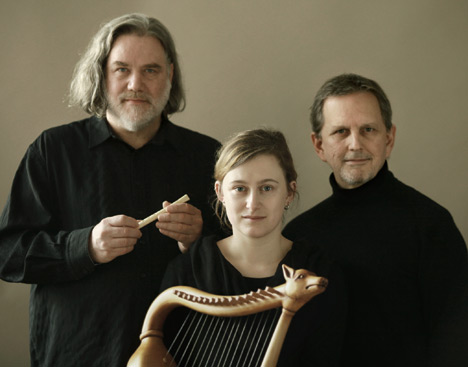 Introduction
When we think of medieval monks and their musical lives, the first thing to come to mind is Gregorian chant, the solemn and ritual song which accompanied the monk's liturgical day, week, season and year. But a closer look at medieval monastic manuscripts from the 9th to 12th centuries shows that many monks were singing other songs as well, with texts which were sometimes anything but Christian. The medieval monastic and cathedral schools of medieval Europe were great centers of learning and focal points of intellectual life. For all monks and clerics, who were native speakers of European vernacular languages, it was essential to become bilingual, to speak, think, perhaps even to read and write in Latin, the language of their faith, the liturgy, the sciences, philosophy and literature. And this crucial link to Latin could best be enhanced by studying 'ancient' texts which had survived: Roman authors, poets, dramatists, teachers, philosophers and historians were studied and memorized, and many of these were also sung. The survival of these songs, sometimes very fragmentary, provide us with a rich treasure-house of European vocal art, and witnesses to a vibrant culture where the Christian monk gave voice to his pagan ancestors, passing on stories and ideas which resonate to this day.
For this new program in The Lost Songs Project, Sequentia's director Benjamin Bagby collaborates with noted scholar Sam Barrett (Cambridge University) to reconstruct classical texts which were sung in European monastic centers and cathedral schools between the 9th and 12th centuries. This Boethian project, which fits perfectly into the larger performance focus of Sequentia, The Lost Songs Project, has been widened to include other musically notated classical texts from the 9th-12th centuries, as well as pagan texts in Old High German and Old English, and forms the basis for the new program, Monks Singing Pagans.
There are songs about Fortuna, Dido and Cleopatra, Hercules and the old gods, as they would have been enjoyed by monastic intellectuals around the turn of the first millennium. Charms and incantations by unknown pagan authors are also performed. The deeply moving poems from Boethius's 'Consolation of Philosophy' (early 6th century, set to music in the 11th century) will be featured, in reconstructions by Benjamin Bagby and Hanna Marti, made together with Sam Barrett.
This new program is performed by the Sequentia trio pictured above: Norbert Rodenkirchen (flutes), Hanna Marti (voice, harp) and Benjamin Bagby (voice, harps).
Background information on the preparation of this program
In 2014, the distinguished musicologist Dr. Sam Barrett (Cambridge University) proposed that Benjamin Bagby and Sequentia collaborate with him on a new scholarly and performance-based project involving one of his special areas of expertise: the notated poems (metra) found in medieval manuscripts of the medieval classic, the Consolation of Philosophy of Boethius. The work was based on Barrett's two-volume study and transcription of the Boethian metra published in 2013. A first working meeting took place at Harvard University in November 2014, followed by a residency and symposium at Ohio State University in Columbus in late April 2015. Vocalist/harpist Hanna Marti joined the project for another working session at Cambridge in September 2015. The final working sessions, with the Sequentia trio in residence, took place at Cambridge University in April 2016, including workshops, teaching, and the first public performances of the Boethian songs. Following this, the program Monks Singing Pagans had its world premiere at Dartmouth College on 28 April 2016.
Upcoming Concerts
28 April 2017
Chicago, IL, University of Chicago, Logan Center
Monks Singing Pagans
30 April 2017
New York City, NY, Music Before 1800, Corpus Christi Church
Monks Singing Pagans
11 May 2017
Paris, Université de Paris – Sorbonne, Amphithéâtre Richelieu
Beowulf
News
Classes at Princeton and Yale
While on tour in the USA performing 'Beowulf' in March and April 2017, Benjamin Bagby taught classes and lectured at Princeton University (speaking about the music of Hildegard von Bingen) and at Yale University (a lecture-demonstration on his performance of Beowulf), and participation in the Yale School of Music's weekly meeting called 'Medieval Song Lab', hosted by musicologists Anna Zayaruznaya and Ardis Butterfield.
Hildebrandslied
Benjamin Bagby has recorded the only surviving Old High German epic fragment, the Hildebrandslied (The Song of Hildebrand), for inclusion in an audiobook version of Adam Gidwitz's new book for children and young adults, The Inquisitor's Tale, just released by Penguin/Random House. He also recorded harp accompaniments to go with portions of the reading of the story. A release event is being schedule for New York City in early April, 2017.
New program given birth at Cambridge University
Following working sessions in 2014-15 with University of Cambridge musicologist Sam Barrett in the USA (Harvard University and Ohio State University) and in Cambridge (Pembroke College), Sequentia was in residence at Cambridge in April for the final rehearsals of the new program 'Monks Singing Pagans'.  An informal video of a rehearsal made by the university became a YouTube sensation, with over 500,000 views. In addition to their rehearsals and working sessions on the songs of Boethius, Sequentia gave a masterclass and the premiere performance of 'Monks Singing Pagans', immediately followed by the US premiere during a residency at Dartmouth College (USA). The week spent at Dartmouth included teaching activities in music history, performance practice, Latin poetry and manuscript studies. Sequentia returned to Cambridge in late June to prepare a special program of the Boethian songs, which was given as part of a symposium on medieval Latin song, with a special concert on 2 July in Pembroke College Chapel.