Soloists' Biographies
Lena Susanne Norin
Mezzo soprano/contralto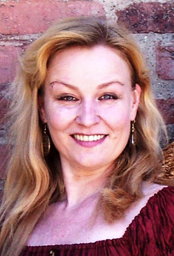 After studying singing in Stockholm, Lena Susanne Norin specialized early music, training with René Jacobs and Dominique Vellard at the Schola Cantorum Basiliensis in Basel, Switzerland. During these formative years she performed and recorded extensively with the Ferrara ensemble. Following her studies she taught voice at the Schola Cantorum from 1986 to 1990, and has since then continued to teach.
Lena Susanne Norin is much sought after as a concert and oratorio singer around Europe, performing a vast array of music written from 1100 to 1900. During over two decades she has worked and recorded extensively with numerous renowned European ensembles: Ferrara Ensemble, Ensemble Gilles Binchois (medieval and renaissance chant and chanson), Sequentia (since 1987), La Chapelle Royale, Akantus, Rheinische Kantorei, Oslo Philharmonic Orchestra, Akademie für Alte Musik, Musica Antiqua Köln, Cantus Cölln. International tours have led her to Europe and the USA, Asia and South America.
Lena Susanne also performs Scandinavian traditional music with Ulv, a trio with Agnethe Christensen and Elizabeth Gaver. While she is most eminent in the field of early music, she is by no means a stranger to the romantic repertoire, having sung the part of Erda in the 2002 produktion of Wagner´s Das Rheingold at the Stockholm Folk Opera.
Upcoming Concerts
7-15 May 2013
Oude Muziek Netwerk tour: Brussels (B), Muiden, Maastricht, Enschede, Rotterdam, Amsterdam, Utrecht (NL). Details
Frankish Phantoms
17 May 2013
Worms (D). Details
Frankish Phantoms
29 May 2013
Köln (D) Museum Schnütgen. Details
Frankish Phantoms
News
Teaching
New courses for 2013 are listed here.
Sequentia on BBC 3
Benjamin Bagby was recently in London, where he appeared as a guest on the BBC 3 'Early Music Show' to talk about Sequentia. The podcast version of his interview with host Catherine Bott can be heard here.
New recording
The program 'Voices from the Island Sanctuary' was recorded by the Westdeutscher Rundfunk Köln in October 2012. A CD release in 2013 is currently being negotiated.
Fragments for the End of Time on 2012 US tour
Sequentia performed the program 'Fragments for the End of Time' during a US concert tour in February/March 2012. Read reviews in the New York Times: The Fearsome Future Through Medieval Eyes, and the Boston Musical Intelligencer: Bagby Time-Travels to medieval Europe.
Beowulf on DVD
Benjamin Bagby's legendary performance of the Anglo-Saxon epic Beowulf (part I) recorded live in Helsingborg, Sweden.
Visit the Beowulf website