Study with Sequentia
Since 1979 the members of Sequentia have taught hundreds of courses in medieval music performance, including summer music academies, workshops and masterclasses all over the world. Of the many young musicians who have attended these courses, a large number have gone on to professional careers in medieval music performance, and several of these have become members of the extended Sequentia performing ensemble.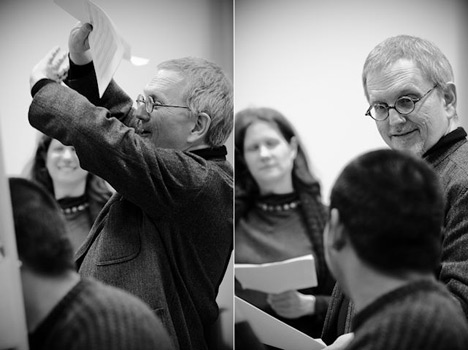 Since 2005 Sequentia's co-founder and director, Benjamin Bagby, has taught at the University of Paris, Sorbonne, in the context of the Master's program in medieval music performance practice which he directs together with Katarina Livljanic, director of the medieval music ensemble Dialogos.
Final auditions for the 2015-16 academic year will be held in Paris in late May or Final auditions for the 2017-18  academic year will be held in Paris in late May or early June 2017. A limited number of places are available for this exclusive and highly demanding course of study. Information on the 2016-17 program (Mr. Bagby's final year as a teacher in the program).
Mr. Bagby also gives advanced private coaching and lessons to highly-motivated young professionals and ensembles.
See the teaching sessions photo album
Workshops and Courses
Benjamin Bagby will be teaching performance courses on medieval song at two music academies in 2016-17:
31 October to 1 November 2016 and 13-14 March 2017
Schola Cantorum Basiliensis (Basel, Switzerland).
2-3 December 2016 and 16-18 February 2017
Scuola Civica di Musica Claudio Abbado (Milano, Italy)
In addition, he will be giving one-day workshops or masterclasses at Princeton University, Yale University, the Nordic Harp Meeting (Copenhagen), and at the Fondazione Cini in Venice (9-13 October 2017).
Previous Workshops and Courses
13-15 April 2015
Schola Cantorum Basiliensis (Basel, Switzerland). Workshop on pieces from the 'Roman de Fauvel' (13-14th centuries).
29 July-9 August 2013
Vancouver Early Music Festival (with Norbert Rodenkirchen and Wolodymyr Smishkewych),
details forthcoming
28 July to 9 August 2012
Intensive summer course in medieval music performance Early Music Vancouver (Vancouver, BC, Canada)
June 2012
Lecture demonstration as part of Montreal Baroque Festival
May 2012
1-day performance-practice workshop in Moscow (Russia)
May 2012
2-day course on Codex Las Huelgas and Aquitanian Polyphony, given at Folkwang Universität der Künste, Essen-Werden, Germany
February-March 2012
Teaching, coaching and lecturing during USA concert tour:
• Georgetown Univ. (Washington DC)
• Longy School of Music (Cambridge, MA)
• Wellesley College (Wellesley, MA)
February 2012
2-day course at University of Limerick, Ireland
Upcoming Concerts
05 October 2017
Paris (FR), Musée de Cluny
Monks Singing Pagans
09 to 13 October 2017
Venice (IT), Fondazione Cini
Seminar Roman de Fauvel
20 April 2018
Konstanz, D
Oswald in Konstanz
News
Benjamin Bagby's recent activities as teacher/lecturer, linked to his performances
At the invitation of the music department, Benjamin taught a performance workshop on the music of Hildegard von Bingen for students at Princeton University (29 March), where he also performed 'Beowulf' in a collaborative production with digital light designer Craig Winslow. Following this, at the invitation of the medieval studies program and the English department, he gave a lecture on his work with reconstructing the 'Beowulf' performance, at Yale University (3 April).
At the Université Paris – Sorbonne, where Benjamin is on the faculty, the yearly 'Entretiens de la musique ancienne' were held this year in honor of his life-long work with reconstructing 'lost songs'. The main event was his performance of 'Beowulf' (11 May), with French video titles, in the Amphithéâtre Richelieu of the Sorbonne, followed by two days of symposium at the university's Centre Clignancourt, sponsored by the historical music organization IREMUS and the musicology department of the university. During this symposium, Benjamin gave a lecture on his work with reconstructed harps and the kinds of clues they can provide ('Beowulf ': dans l'atelier d'un conteur d'histoires).
2017 Barbara Thornton Memorial Scholarship awarded by Early Music America to string-player Allison Monroe
This scholarship is given by EMA to "an outstanding and highly-motivated (and possibly unconventional) young performer of medieval music who seeks to widen his/her experience through more advanced study and/or auditions in Europe."  The recipient is chosen by a jury of musicians who knew or worked with the great medieval music specialist and teacher, Barbara Thornton (1950-1998), who co-founded Sequentia together with Benjamin Bagby in 1977. Read more about Allison here.