Contact
E-mail: info@sequentia.org
Representation (Europe)
GALATEA
Sophie Lanoote
Management artistique | conseil | production
45, bd Victor Hugo | 92110 Clichy | France
Tel +33 (0)1 41 40 94 88
Skype : galateamusic
www.galatea-music.com
Representation
(exclusive of Europe)
Seth Cooper
Seth Cooper Arts Inc.
4592 Hampton Ave.
Montréal, QC
Canada
Site: www.sethcooperarts.com
Email: sethcooper.arts@gmail.com
Tel: 514-467-5052
In association for
Season 2016-2017 with:
Jon Aaron
Aaron Concert Artists
220 West 148th St. 4J
New York City 10039, NY / USA
Tel: 212-665-0313
Email: jon@aaronconcert.com
Follow us on Facebook
Soloists' Biographies
Benjamin Bagby
Vocalist, harper and scholar Benjamin Bagby has been an important figure in the field of medieval musical performance for more than 30 years. After musical studies in the USA (Oberlin Conservatory and Oberlin College) and Switzerland (Schola Cantorum Basiliensis), he and the late Barbara Thornton formed Sequentia in 1977 in Cologne, Germany, where the ensemble was based until Mr. Bagby moved to Paris in 2002.
The years since 1977 have been almost uniquely devoted to the work of Sequentia. Mr. Bagby created more than 70 innovative concert programs of medieval music and music drama, giving performances in Western and Eastern Europe, North & South America, North and West Africa, the Middle East, Japan, Korea, and Australia.
In 1981, the ensemble began to release the first of many LP's and CD's which encompass the entire spectrum of medieval musical practice. Many of these recordings – including the complete works of Hildegard von Bingen (7 CDs) have received awards: the Deutsche Schallplattenpreis (for Vox Iberica, 1993), two Netherlands Edison Awards (for Hildegard von Bingen recordings, 1987 and 1998), a French Disque d'Or (1996), the CHOC of Le Monde de la Musique (2002) and Diapason d'Or (1995 and 1999). Sequentia's best-selling CD, Canticles of Ecstasy, has sold more than 500.000 copies worldwide and was nominated for a Grammy Award as best choral recording.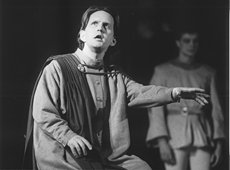 For all of these recordings, which were researched and assembled by Bagby and Thornton, the accompanying booklets are appreciated for their rigourous scholarly quality, with great attention to detail, to the sources, and to the work of philologists (such as Peter Dronke, Pierre Bec, Heimir Pálsson and Ulrich Mueller) who collaborated on the textual editions. In addition, Sequentia projects witnessed collaboration with musicologists such as Leo Treitler, Edward Roesner, Harmut Möller and Richard Crocker.
The most recent CD releases of Sequentia (Edda: Myths from Medieval Iceland; The Rheingold Curse; Lost Songs of a Rhineland Harper and Fragments for the End of Time) are based solely on the research of Benjamin Bagby, reflecting his interest in oral poetry and the use of traditional music in reconstructing ancient modal vocabularies. They are grouped under the banner 'The Lost Songs Project.'
Bagby also directs the Sequentia men's vocal ensemble for the performance of medieval liturgical polyphony and chant, which traces it beginnings to the mid-1980's. The major project for the men's voices in 2003-4 was a collaboration – entitled Chant Wars – between Sequentia and the Parisian ensemble Dialogos (dir., Katarina Livljanic). The CD of this program was released by Sony-BMG (DHM label) in 2005. In 2009, he created a new men's vocal ensemble in Paris, which has toured extensively.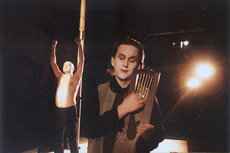 Apart from the research and ensemble work of Sequentia, Mr. Bagby devotes his time to the solo performance of Anglo-Saxon and Germanic oral poetry; an acclaimed performance of the Beowulfepic is an ongoing project, with performances given yearly worldwide, and a DVD production released in 2007.
In addition to reseaching and writing more than 70 program books for festivals and concert series, and writing (or co-authoring, with Barbara Thornton) more than 25 CD booklets, Mr. Bagby has written about performance practice, with articles appearing in Early Music, Early Music America, in the Performer's Guide to Medieval Music (IU Press) edited by Ross Duffin, in the Basler Jahrbuch für historische Musikpraxis, and in a recent collection of essays, Performing Medieval Narrative.
As a guest lecturer and professor, he has taught courses and workshops at – among others – the Schola Cantorum Basiliensis, Harvard University, the Autunno Musicale (Como, Italy), the Modus Centrum (Oslo), Amherst Early Music (Tufts University), Wellesley College, the University of Texas at Austin, Northwestern University, the New England Conservatory of Music (Boston), Sarah Lawrence College (NY), St. John's College (Santa Fe), Duke University, Stanford University, the Studio Alte Musik (Berlin), the Royaumont Foundation (Paris) and the Stary Sacz Festival (Poland).
In 2000 Bagby was a guest speaker at New York University's Medieval Studies Program, and he spent a semester as a visiting Krieger Fellow at Case Western Reserve University (Cleveland); in 2001 he was invited as Patten Lecturer at Indiana University (Humanities and School of Music), as a humanities lecturer (together with Ping Chong) at the University of Michigan, and was a guest professor at Illinois Wesleyan University (Bloomington, IL). In 2003 he was awarded a Fortieth Anniversary Fellowship by the Religion and the Arts Initiative (Center for the Study of World Religions, in conjunction with the Music Department) of Harvard University, where he and Katarina Livljanic spent 6 weeks in residence developing the program Chant Wars. In 2004 he was a Trotter Distinguished Visiting Professor (University of Oregon) and in 2007 – again together with Katarina Livljanic – he was a Cornille Distinguished Visiting Professor at Wellesley College. Bagby and Livljanic were visiting instructors at Harvard University in 2011. In 2011 Bagby was also awarded the Howard Mayer Brown Lifetime Achievement Award by Early Music America. Since 2005 Bagby has been on the music faculty of the Université de Paris - Sorbonne, teaching in the master's programme for medieval music performance.
Mr. Bagby is married to the Croatian singer and musicologist Katarina Livljanic.
Benjamin Bagby: Resume (PDF, 135 KB)
Upcoming Concerts
11-13 March 2016
Toronto, Canada
Beowulf
April 2016
US Tour
Beowulf
News
Beowulf in Russia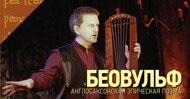 On 8 September 2015, Benjamin Bagby will perform Beowulf for the first time in the Russian Federation, in the Tchaikowsky Conservatory in Moscow. Following this, Bagby will coach an ensemble of Moscow early music performers for the festival La Renaissance, in preparation for their Russian premiere of the 'Roman de Fauvel' on 12 September in Moscow. For this significant event, Bagby will also be working with Russian instrumentalists Ivan Velikanov, Danil Ryabchikov and French vocalist Marc Mauillon.
Bagby at Cambridge University
On 28-29 September 2015, Benjamin Bagby will be at Cambridge University, working with musicologist Sam Barrett on their joint project to reconstruct the 'metra' from the Consolation of Philosophy of Boethius. There will also be a presentation of works in progress for Cambridge musicology students on 28 September. For these sessions, Bagby & Barrett will be joined by Swiss vocalist/harpist Hanna Marti, who is working on a similar project involving the Metamorphoses of Ovid.
Teaching in Basel
Benjamin Bagby will be teaching again in Basel, Switzerland, at his alma mater, the Schola Cantorum Basiliensis, on 2-3 November 2015 (co-teaching with colleague Norbert Rodenkirchen) and again 18-19 January 2016. The subject will be the songs of Philippe le Chancelier (d. 1236), both monophonic and polyphonic.