Soloists' Biographies
Katarina Livljanić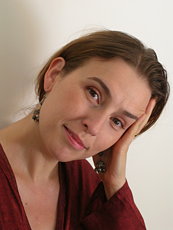 Katarina Livljanić, singer and musicologist, is one of the principal international specialists in medieval chant performance. Born on the Adriatic coast of Croatia, she decided to become a medieval music performer at a very early age, training at the Zagreb Music Conservatory before moving to France to study voice (with Guillemette Laurens and Glenn Chambers) and musicology (with Marie Noël Colette). She directs the vocal ensemble Dialogos, specializing in medieval chant and liturgical theatre of the Glagolitic tradition. For her work in this field, she was decorated for cultural achievement in 2002 by the president of Croatia.
Dialogos has been acclaimed by critics in major international journals and has toured in most European countries, in the USA, Canada, North Africa and Latin America, in all the main festivals (Saintes, Utrecht, Ambronay, Royal Festival Hall of London, the Metropolitain Museum in New York, Edinburgh International Festival...), including radio and television broadcasts. Their CDs have received press distinctions in international music magazines, including Diapason d'or, Choc du Monde de la musique, Goldberg 5 stars).
Katarina Livljanić obtained a Ph.D. at the Ecole Pratique des Hautes Etudes in Paris, based on research of medieval chant manuscripts of Southern Italy. She is currently Maître de conferences in medieval music at the Sorbonne University in Paris where she codirects a medieval music performance Master programme.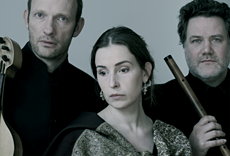 She spent a semester as visiting lecturer and directed a Gregorian chant schola at Harvard University. In 1998 she founded a chant performance program at the University of Limerick in Ireland. She is regularly invited to numerous universities in Europe, in the United States and Canada as a teacher and resident artist. She has emerged as an important international speaker about medieval chant performance and publishes articles in specialized reviews wordwide. In 2002 she was a guest artistic advisor at the Early Music Festival in Utrecht, Netherlands. With Benjamin Bagby, she has been awarded a Cornille Visiting Professorship at the Wellesley College (USA) in 2007.
Her most recent solo project, a musical theatre production entitled Judith based on the masterpiece by the 16th-century Croatian poet Marko Marulić, was premiered at the Ambronay Festival in 2006.
Upcoming Concerts
30 September 2018
New York City (Music Before 1800)
Beowulf
17 October 2018
London (British Library)
Beowulf
7 December 2018
Amherst, MA / Amherst College
Monks singing pagans
14 December 2018
Gdansk, Poland / Actus Humanus Nativitas
Monks singing pagans
News
Benjamin Bagby's teaching activities in 2018
In addition to his teaching position at the University of Paris - Sorbonne, where he has taught since 2005 in the professional masters program, Benjamin Bagby travels widely in 2018 to teach other practical workshops for young professionals:
Milano, Scuola Civica di Musica (Milano, Italy) 29-31 January
The troubadours of the Milano manuscript R71 sup. (late 13th century)
Folkwang Universität der Künste (Essen-Werden, Germany) April-June
Benjamin will join the faculty of this renowned masters program for liturgical chant performance and medieval music, specializing this year in music from Notre Dame of Paris. The dates of his courses: 13-14 April, 18-20 May, 28-30 May and 15-17 June. More information
Schola Cantorum Basiliensis (Basel, Switzerland) 25-26 May
7th International Course on Medieval Music Performance (Besalú, Spain) .
Music relating to the idea of the Crusades, especially in the 12th and early 13th centuries.
Amherst Early Music Festival (Connecticut College, New London CT) 15-21 July
An intensive course on the Roman de Fauvel (14th century)
July 21, 2018, 1 pm "Roman de Fauvel project" (student performance)
Burg Fürsteneck, Germany (31 August to 02 September
Fortbildung zur Musik des Mittelalters / Roman de Fauvel (guest instructor)