Hildegard von Bingen: Celestial Hierarchy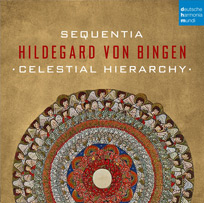 CD (total time ) 72 minutes
Recorded November 2012 in St. Remigius, Franc-Wâret, Belgium.
Released in 2013 by Deutsche Harmonia Mundi (SONY)
Booklet 31 pp.
The final CD of Sequentia's Hildegard von Bingen complete works project was recorded for SONY in November 2012, and released in 2013 as a single CD. Since 2014, Sequentia's recording of the complete works of Hildegard von Bingen has been planned for release as a 9-CD box set on the DHM/SONY label. Unfortunately, there have been several delays. As soon as a new release date is announced, it will be announced on this website. The completion of this enormous project, begun by Sequentia in 1982, represents the culmination of the life's work of the late Barbara Thornton and also celebrates Hildegard's elevation to sainthood and magistra ecclesiae in 2012. A multi-generational ensemble of women's voices plus the flautist Norbert Rodenkirchen was united under the direction of Benjamin Bagby for this unique recording.
Left to right: (top row) Bagby, Labourdette, Lutzenberger, Norin, Rodenkirchen (lower row) Mothes, Mourot, Christensen, Brotherton. Photo: Maximilien Ciup
The Story of David Hart's Flute
The American flautist David Hart was a member of Sequentia in 1981-82 and participated in the first productions and recordings of Hildegard von Bingen's 'Ordo Virtutum' and 'Symphoniae'. After his death in 1987, David's flutes passed into the keeping of his brother, Jim Hart. Recently, Jim had contacted Sequentia's flautist Norbert Rodenkirchen about finding new homes for David's flutes, and Norbert received some of David's medieval flutes, one of which he played in the new Sequentia recording of Hildegard's music to be released in 2013. In writing to Jim following the recording, Norbert talks about this connection to David, to his instrument, and the coming together of past and present:
"...For one piece on the new CD I could use the same flute which David played on Sequentia's 'Symphoniae' record in the early 1980s (the Silverstein flute in C). And it was great -- to me it is very meaningful. Another interesting aspect is that in this piece I accompany a young singer with David´s flute, Lydia Brotherton, who was born around the time when the first Hildegard recordings of Sequentia took place. For me there is a beautiful inspiration behind all that.
First it was not so easy to adapt to David´s flute because each instrument has a unique personality and it has to meet the musician´s personality in a slow process. I can only describe it as a process of critical dialogue. You ask questions but don't get direct answers, only directions where to go. Maybe you get answers after you go into that direction for a few weeks. I did this and found out that I usually play much more roughly and less fine than David must have played because his flute doesn't respond to my louder approach. But when I approach it more tenderly it suddenly sounds very full. And that tender quality was exactly what was needed for the piece on the CD ('O speculum columbe'). So everybody agreed that I should chose David's flute for that special circumstance and alter my playing to a more gentle style than usual. And then magic happened. It worked. And it is beautiful!"
Discography
2000-2018
1990-1999
1980-1989