The Ensemble
Sequentia is one of the world's most respected and innovative ensembles for medieval music. It is an international group of singers and instrumentalists – united in Paris under the direction of the legendary performer and teacher Benjamin Bagby – dedicated to the performance and recording of Western European music from the period before 1300. The size and disposition of the ensemble is determined by the repertoire being performed, and ranges between an instrumental/vocal duo to a large vocal ensemble. Based on meticulous and original research, intensive rehearsal and long gestation, Sequentia's virtuosic performances are compelling, surprising in their immediacy, and strike the listener with a timeless emotional connection to our own past musical cultures.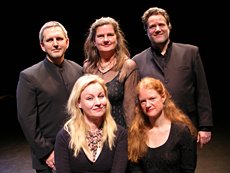 Founded by Benjamin Bagby and the late Barbara Thornton, Sequentia can look back on 35 years of international concert tours, performing throughout Europe, North and South America, India, the Middle East, Asia, Africa and Australia. Sequentia has brought to life over seventy innovative concert programmes that encompass the entire spectrum of medieval music, in addition to the creation of music-theater projects such as Hildegard von Bingen's Ordo Virtutum, the Cividale Planctus Marie, the Bordesholmer Marienklage, and Heinrich von Meissen's Frauenleich (several of which were filmed for television). The work of the ensemble is divided between a small touring ensemble of vocal and instrumental soloists, and a larger ensemble of voices for the performance of Latin liturgical chant and polyphony. After 25 years based in Cologne, Germany, Sequentia's home has been in Paris since 2002.
Sequentia's comprehensive discography of more than thirty recordings spans the entire Middle Ages. In 1981, the ensemble began to release the first of many LP's and CD's which encompass the entire spectrum of medieval musical practice. Many of these recordings – including the complete works of Hildegard von Bingen (7 CDs) have received awards: the Deutsche Schallplattenpreis (for Vox Iberica, 1993), two Netherlands Edison Awards (for Hildegard von Bingen recordings, 1987 and 1998), a French Disque d'Or (1996), the CHOC of Le Monde de la Musique (2002) and Diapason d'Or (1995 and 1999). Sequentia's best-selling CD, Canticles of Ecstasy, has sold more than 500.000 copies worldwide and was nominated for a Grammy Award as best choral recording. Recordings made by Sequentia have been integrated into the soundtracks of several major films.
Sequentia has inspired new generations of young performers, trained in professional courses given by Benjamin Bagby and other members of the ensemble. As an extension of this work, Bagby teaches in the masters degree programme for medieval music performance practice, which he helped create in 2005 at the Université de Paris – Sorbonne.
The past years have seen a growing corpus of Sequentia performances and recordings centered on the importance of oral tradition, story-telling, and the earliest musical documents of medieval Europe. These programmes are all grouped under the banner of 'The Lost Songs Project' and have their roots in the ground-breaking work which Bagby has done with his reconstrction of the Anglo-Saxon Beowulf epic (www.BagbyBeowulf.com). In 2002, Sequentia released an acclaimed 2-CD set of sung tales from medieval Iceland: The Rheingold Curse: A Germanic Saga of Greed and Vengeance from the Medieval Icelandic Edda, on the Marc Aurel Edition label. Other recent programs, such as Lost Songs of a Rhineland Harper (released on the BMG Classics/DHM label in 2004), and Chant Wars, (SONY-BMG / 2005, a co-production with the Parisian ensemble Dialogos) have received wide international critical acclaim. The most recent recording, Fragments for the End of Time, featuring apocalyptic songs from early medieval Germany, Saxony and Aquitaine, was released on the Raumklang label in 2008.
Upcoming Concerts
17 March 2017
Basel (CH) Predigerkirche, Freunde Alte Musik
Monks Singing Pagans
25 March – 2 April 2017
Lafayette College, Vassar College, Princeton University, Yale University
Benjamin Bagby Beowulf tour USA
1 April 2017
New York City, Symphony Space
Book release event for 'The Inquisitor's Tale'
11 May 2017
Paris, Université de Paris – Sorbonne, Amphithéâtre Richelieu
Beowulf
News
Hildebrandslied
Benjamin Bagby has recorded the only surviving Old High German epic fragment, the Hildebrandslied (The Song of Hildebrand), for inclusion in an audiobook version of Adam Gidwitz's new book for children and young adults, The Inquisitor's Tale, just released by Penguin/Random House. He also recorded harp accompaniments to go with portions of the reading of the story. A release event is being schedule for New York City in early April, 2017.
New program given birth at Cambridge University
Following working sessions in 2014-15 with University of Cambridge musicologist Sam Barrett in the USA (Harvard University and Ohio State University) and in Cambridge (Pembroke College), Sequentia was in residence at Cambridge in April for the final rehearsals of the new program 'Monks Singing Pagans'.  An informal video of a rehearsal made by the university became a YouTube sensation, with over 500,000 views. In addition to their rehearsals and working sessions on the songs of Boethius, Sequentia gave a masterclass and the premiere performance of 'Monks Singing Pagans', immediately followed by the US premiere during a residency at Dartmouth College (USA). The week spent at Dartmouth included teaching activities in music history, performance practice, Latin poetry and manuscript studies. Sequentia returned to Cambridge in late June to prepare a special program of the Boethian songs, which was given as part of a symposium on medieval Latin song, with a special concert on 2 July in Pembroke College Chapel.
Teaching in Basel and Milano
Benjamin Bagby will be teaching performance courses on medieval song at two music academies this year:
Schola Cantorum Basiliensis (Basel, Switzerland): 31 October to 1 November 2016 and 13-14 March 2017
Scuola Civica di Musica Claudio Abbado (Milano, Italy): 2-3 December 2016 and 16-18 February 2017