The Ensemble
Sequentia is one of the world's most respected and innovative ensembles for medieval music. It is an international group of singers and instrumentalists – united in Paris under the direction of the legendary performer and teacher Benjamin Bagby – dedicated to the performance and recording of Western European music from the period before 1300. The size and disposition of the ensemble is determined by the repertoire being performed, and ranges between an instrumental/vocal duo to a large vocal ensemble. Based on meticulous and original research, intensive rehearsal and long gestation, Sequentia's virtuosic performances are compelling, surprising in their immediacy, and strike the listener with a timeless emotional connection to our own past musical cultures. More
SWISS RADIO (SRF)
Benjamin Bagby receives REMA award
The REMA Early Music Artist Award for 2016 has been presented to Benjamin Bagby during a ceremony in Basel, Switzerland, on 17 March 2017. On this occasion the Swiss Radio SRF 2 Kultur aired a feature program authored by Jenny Berg. You can listen to it here (in German).
CELEBRATING 40 YEARS OF SEQUENTIA
Schola Cantorum Basiliensis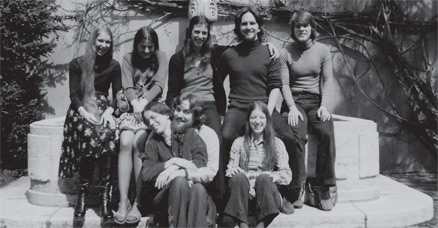 Benjamin Bagby writes about the origins of the ensemble at the Schola Cantorum Basiliensis in Basel, Switzerland. Read it here (PDF).
GERMAN RADIO WDR
Sequentia featured in radio tribute
Benjamin Bagby and Sequentia will be the focus of the program WDR 3 Vesper on 11 March, 2017. The show will feature interviews made with Bagby over the years, and a selection of Sequentia's recording for the WDR (with whom the ensemble has had a working relationship since its beginnings in Köln in the late 1970's).
PROFESSEUR DISTINGUÉ
Sorbonne honors Bagby
Benjamin Bagby honored as a 'professeur distingué' by the University of Paris - Sorbonne, in recognition of his recent REMA award. He has been on the faculty of the Sorbonne since 2005, where he teaches performance practice in the master's program for medieval music.
REMA AWARD 2016
Benjamin Bagby to receive prestigious award
Sequentia's co-founder and artistic director Benjamin Bagby has been awarded the REMA Early Music Artist Award for 2016. It will be presented to him during a ceremony in Basel, Switzerland, on 17 March 2017 (the same day as Sequentia's performance of 'Monks Singing Pagans' for the Freunde Alte Musik Basel). REMA is the largest European early music network. See an interview with Benjamin here.
FIRST PERFORMANCE IN 1,000 YEARS
Boethius' Consolation of Philosophy
After more than two decades of painstaking work on identifying the techniques used to set particular verse forms, research undertaken by Cambridge University's Dr Sam Barrett has enabled him to reconstruct melodies from the rediscovered leaf of the 11th century 'Cambridge Songs'. Sequentia (Benjamin Bagby, Hanna Marti and Norbert Rodenkirchen) presented the Boethian songs at a concert held in Cambridge on 23 April 2016, and again on 2 July, as part of a symposium on medieval Latin song. An informal rehearsal video made by the university became a YouTube sensation (see below), with over 500, 000 views so far.More
Reconstructing the Songs
A documentary charting the reconstruction of early medieval Latin song repertories and melodies for Boethius' Consolation of Philosophy with Sequentia and Dr Sam Barrett of the University of Cambridge.
NEW PROGRAM FOR 2016
Monks Singing Pagans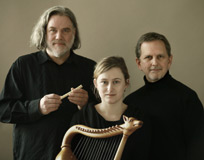 When we think of medieval monks and their musical lives, the first thing to come to mind is Gregorian chant, but a closer look at medieval monastic manuscripts from the 9th to 12th centuries shows that many monks were singing other songs as well, with texts which were sometimes anything but Christian. The medieval monastic and cathedral schools of medieval Europe were great centers of learning and focal points of intellectual life. For all monks and clerics, who were native speakers of European vernacular languages, it was essential to become bilingual, to speak, think, perhaps even to read and write in Latin, the language of their faith, the liturgy, the sciences, philosophy and literature. More
BENJAMIN BAGBY SOLO PERFORMANCE
The Voyager: Medieval Songs of Exile, Wandering and Travel
In January 2015 Benjamin Bagby premiered a new solo program at the Musée de Cluny in Paris: the theme was travel and the songs of travellers in the Middle Ages. The live concert was filmed by Laurent Hadrien and a short film has been produced, with excerpts from the performance and added commentary by Bagby.
BENJAMIN BAGBY'S BEOWULF
Beowulf at the Utrecht Early Music Festival
On 29-30 August, Benjamin Bagby celebrated the 25th anniversary of his first performance of Beowulf at the Utrecht Early Music Festival, performing again to sold-out houses in Utrecht's RASA Theatre. See the festival's promotional video in which Bagby appears to discuss his work:
CARNEGIE HALL PRESENTS
Collected Stories: Hero
Bagby's Beowulf performed in Carnegie Hall, New York City
On 22 April Benjamin Bagby performed a version of Beowulf as part of a series of concerts curated by American composer David Lang.
This concert was listed among the 'Ten Best Classical Music Events of 2014' by the New York Times!
LATEST RELEASE
Hildegard von Bingen: Celestial Hierarchy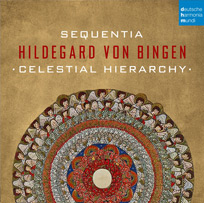 The final CD of Sequentia's Hildegard von Bingen complete works project was recorded for DHM/SONY in November 2012 in the church of Franc-Warêt, Belgium. It was released in May 2013 as a single CD. The completion of this enormous project, begun by Sequentia in 1982, represents the culmination of the life's work of the late Barbara Thornton and also celebrates Hildegard's elevation to sainthood and magistra ecclesiae in 2012. A multi-generational ensemble of women's voices plus the flautist Norbert Rodenkirchen was united under the direction of Benjamin Bagby for this unique recording whose title is 'Celestial Hierarchy'. More
Other Current Programs
Frankish Phantoms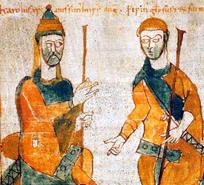 Benjamin Bagby: voice, harp; Wolodymyr Smishkewych, voice; Norbert Rodenkirchen, flutes, cithara, harp.
In his new Sequentia programme, Benjamin Bagby explores the musical world of the Carolingian clan – and especially Charlemagne, who became emperor in 800 –, those warlike and pious Frankish kings whose realm, in the 8th century, stretched across what is now most of Western Europe. More
Fragments for the End of Time
In this program, we explore the musical world of these surprising, powerful texts, some of which survive only as fragments: the Old High German Muspilli, which describes the waking of the dead, the workings of Satan, the fight of Elias with Anti-Christ, the call to judgement, and warns of the uselessness of wealth and bribery in that final courtroom... More
Upcoming Concerts
17 March 2017
Basel (CH) Predigerkirche, Freunde Alte Musik
Monks Singing Pagans
25 March – 2 April 2017
Lafayette College, Vassar College, Princeton University, Yale University
Benjamin Bagby Beowulf tour USA
1 April 2017
New York City, Symphony Space
Book release event for 'The Inquisitor's Tale'
11 May 2017
Paris, Université de Paris – Sorbonne, Amphithéâtre Richelieu
Beowulf
News
Hildebrandslied
Benjamin Bagby has recorded the only surviving Old High German epic fragment, the Hildebrandslied (The Song of Hildebrand), for inclusion in an audiobook version of Adam Gidwitz's new book for children and young adults, The Inquisitor's Tale, just released by Penguin/Random House. He also recorded harp accompaniments to go with portions of the reading of the story. A release event is being schedule for New York City in early April, 2017.
New program given birth at Cambridge University
Following working sessions in 2014-15 with University of Cambridge musicologist Sam Barrett in the USA (Harvard University and Ohio State University) and in Cambridge (Pembroke College), Sequentia was in residence at Cambridge in April for the final rehearsals of the new program 'Monks Singing Pagans'.  An informal video of a rehearsal made by the university became a YouTube sensation, with over 500,000 views. In addition to their rehearsals and working sessions on the songs of Boethius, Sequentia gave a masterclass and the premiere performance of 'Monks Singing Pagans', immediately followed by the US premiere during a residency at Dartmouth College (USA). The week spent at Dartmouth included teaching activities in music history, performance practice, Latin poetry and manuscript studies. Sequentia returned to Cambridge in late June to prepare a special program of the Boethian songs, which was given as part of a symposium on medieval Latin song, with a special concert on 2 July in Pembroke College Chapel.
Teaching in Basel and Milano
Benjamin Bagby will be teaching performance courses on medieval song at two music academies this year:
Schola Cantorum Basiliensis (Basel, Switzerland): 31 October to 1 November 2016 and 13-14 March 2017
Scuola Civica di Musica Claudio Abbado (Milano, Italy): 2-3 December 2016 and 16-18 February 2017